Enjoy your stay at
Het Arresthuis

Meeting packages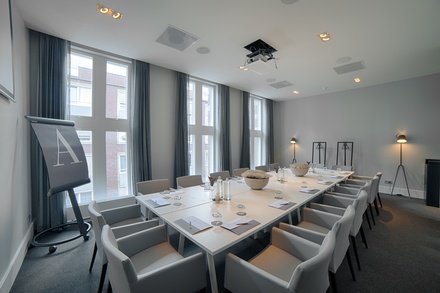 Looking for a special location for a meeting or workshop?
Het Arresthuis has two meeting rooms with a modern interior. Het Archief is established in the former archive of the prison and can accomodate groups up to 16 persons. Het Pleidooi is very suitable for smaller groups up to 6 persons. Both rooms are fully equipped with a beamer, projection screen, flip-over, automatic shading and lighting, climate control, mini bar and nespresso and coffee and tea facilities.
If you are planning on having a meeting with a larger group of people but still want to spend the night and have dinner in Het Arresthuis? We are happy to combine a package with the TheaterHotel De Oranjerie. The TheaterHotel De Oranjerie is an ideal location for meeting purposes and is just a few minutes from Het Arresthuis walking distance.
For an quotation, please contact the front office of Hotel Het Arresthuis at info@hetarresthuis.nl or 0031 475 870870.